Business Conferences: Is the Expense Worth It?
Published August 01, 2017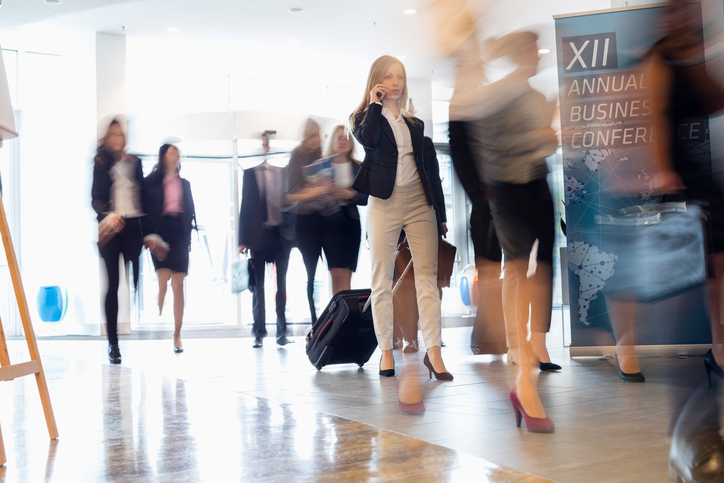 Business conferences are billed as opportunities to attend valuable seminars, mingle with industry experts, and hear inspiring keynote speakers. They are also known for cutting into valuable work time, costing the company tens of thousands of dollars per employee attending, and being a wild party spent on the company dime. Somewhere between these extreme views there's the truth of business conferences. Let's talk through whether sending an employee to a particular conference is worth it.
Does Your Employee Need to be at a Business Conference to Learn?
One of the main benefits to sending employees to a conference is that attendees have the opportunity to stay current on business trends. The panel discussions and vendor booths are a treasure trove of competitive information. In fact, many attendees are frustrated that they can't learn enough at conferences, as panels sometimes conflict.
But couldn't an employee just learn the same things from a online webinar, or even colleagues who already have the knowledge? This way, the company avoids travel expenses and lost productivity.
Maybe. Maybe not. The reality of work is that employees can get caught in the routines of their day-to-day tasks and don't always take the time to learn and assimilate new information. When your team travels to a conference, they're taken out of routine and placed into an environment where thousands of attendees are attending panels and discussions. That buzz revitalizes your employees and brings new life to your company—employees return with ideas about how to improve your business practices and innovate.
Value of Random Encounters at Conferences
The value of conferences comes from more than being fed a ton of new information in windowless conference rooms. In fact, the real value of a conference is found outside of the panel discussions and vendor area. When your people are surrounded with like-minded people, attending meet-and-greet social events with industry colleagues, and having random discussions while waiting in line for a coffee, that's when the actual learning takes place.
That is, if your people stayed home and embarked on a self-study mission to learn new skills and stay current with industry trends, it's likely that they wouldn't learn as much. That's not to say that they aren't capable of learning and teaching one another. Rather, when they are outside of their normal environment, and are able to gain new perspectives from throughout their industry, the possibilities for learning increase dramatically.
If, for instance, a member of your team sits in on a presentation from an industry expert, she might gain valuable insights to share with her team. When she meets a fellow attendee in the hotel lounge, they might have the opportunity to discuss and gain even more from the experience. If she stayed in the confines of her usual team, new insights from other sectors of the industry would be all but impossible.
Quantify the Experience; Track the Conference ROI
You still need to know if the expense is worth it. Your CFO is not interested in the philosophy of the random meet-and-greet. He wants to see dollar signs balanced on a sheet. If you can't show a return on investment from conference expenditures, he might cut them from the budget altogether.
With that in mind, you can focus your team by asking them to quantify their experiences at a conference. That is, have your team collect business cards and make note of where new ideas originated. It's enough that they show that an idea came from the conference, if not the exact source.
Once you have this data, you can track how those new contacts and ideas impact your business later on. One new vendor contact might save the company a few hundred dollars, while a new approach to sales or technology could pay off to the tune of thousands per month for years.
Send Your Team to That Vegas Conference with a Mission
When you approach conferences as tasks with concrete expectations attached, your team will have a clear mission when heading to Vegas. On the flight, they will mentally prep for how to make the most of their time rather than studying strategies for winning at blackjack. This way, the conference becomes part of their job, a special fact-finding mission intended to benefit the company for the long-haul.
On return, your team is sure to have a trove of facts, contacts, and insights to implement as you move forward. Since there are sure to be hidden, unquantifiable benefits to the trip, you might track the overall performance of your team post-conference. In fact, the experience could be team-building and pay off in terms of improved, strengthened morale, which is invaluable.
Turn Employee Conference Expenses into Investments
Conferences should be more than lavish rewards for hard-working employees. Those expenses can become investments just as much as any business trip. Further, if you send your team to a conference expecting a return on your investment, with a mission, the likelihood that conferences expenses are worthwhile increases tenfold.
---
Make Business Conference Expenses Easy to Manage
Sending employees to business conferences is easier with an expense management system in place. ExpenseWire is a wholly-owned subsidiary of Paychex, a trusted name in the HR business that serves over half a million small and medium-sized businesses nationwide. Our expense management software captures expense data at the time of purchase, then flows that information into your reimbursement process and accounting systems.