Manage Employee Expenses During Trade Shows
Published March 13, 2019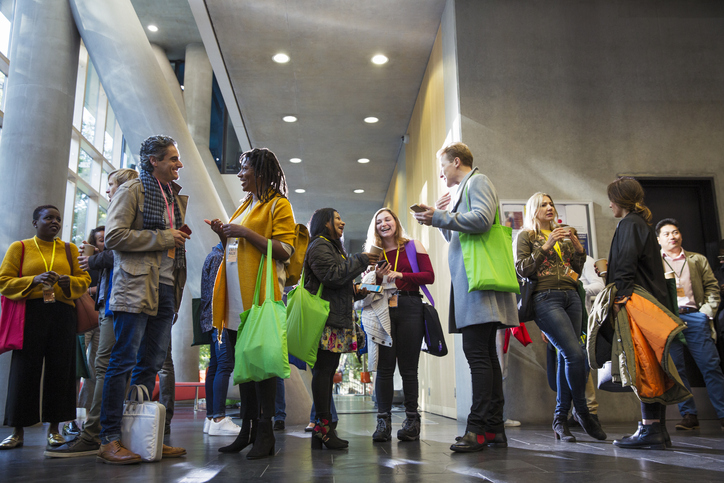 "Trade show season" might not be an officially recognized time of year on the calendar. However, plenty of event coordinators, marketers, product developers and sales professionals routinely mark off dates as they prepare to head to conferences, taking teams of people with them.
Trade Show Costs
Every trade show comes with a number of expenses that businesses account for in their conference and trade show budgets, including things like:
Registration fees
Badges for each employee
Marketing, promotional costs, and fees relate to booth or tabletop banners and graphics
Shipping and venue services
Equipment rental, which can range from things like extra booth carpeting, to chairs, to power cords
Each of these might have their own specific line items in your overall trade show budget. But what about the costs your employees take on when they attend trade shows?
Consider:
Vehicle rental, and/or gasoline charges as they travel to and from the trade show or conference.
If they fly, that means baggage charges, plus in-flight meals and entertainment.
Don't forget lodging, meals, entertainment, and travel to and from the actual conference site.
While a trade show offers a chance for employees to get out of the office network with partners, and build new connections, it's hardly a vacation. In fact, if employees are on their feet all day, attending multiple breakouts, or meeting with prospective clients or customers well into the evening, being at a trade show can be a lot of work.
Do you want employees to get bogged down in the minutia of tracking expenses and worrying about reimbursements while they're away?
Below, we offer tips to keep in mind for before, during, and after trade shows, along with ways that automated expense management software like ExpenseWire can help keep things simple for employees, and provide managers with useful insight.
---
When you equip employees with a mobile-friendly expense management solution like ExpenseWire, you can make things easier for them when they're on the go. Schedule a demo, and learn more today.
---

Managing Employee Trade Show Expenses
Many trade show coordinators have a process that helps them forecast costs and establish trade show budgets. Often, sales, product, and marketing teams build a plan, and target specific events and conferences well in advance of actual dates. However, anticipating reimbursable costs that employees will accrue can add a layer of complexity when it comes to managing a trade show budget.
To keep employees' costs from escalating beyond the budget, you can communicate about how they should track expenses, and which expenses are reimbursable. You can also give them automated software that helps keep them on track.
Here are tips to consider for before, during, and after a trade show, along with some ways that ExpenseWire can help you plan future trade show budgets.
1. Before the show, set expectations. Within each department, managers can meet with employees who will be attending the upcoming trade show.
Whether they meet one-on-one or in a group, managers can use this opportunity to check in about expenses, so employees know what they can and cannot reimburse.
They can also reference specific areas of the employee handbook if there are questions.
Managers might also want to discuss basic spending protocols at things like group dinners, or client-events when senior staff will also be present. This can help the team avoid duplicate expenses.
2. At the show, help employees keep track of details. When employees are bouncing between sessions, managing the booth, giving demos, and networking with new and familiar faces, it's easy to overlook the details of tracking expenses.
With expense management software like ExpenseWire, employees don't have to worry about keeping track of things on paper, or in their heads. The software makes it easy for them to track in real time.
Employees can take pictures of receipts immediately after payments, then upload them right away as part of their expense report.
Meanwhile, alerts let employees know if they're about to go over their allotted budget, or if they're trying to claim a purchase that is outside of the company's expense policy.
3. Following the show, speed up the reimbursement cycle, and put data to use.
If employees have been using ExpenseWire during their trade show travels, then they won't have to worry about digging through receipts at the airport, or messing around with a spreadsheet between flights, or on the ride home.
They can track their last few travel-related expenses as they're happening, and submit their expense report for approval before they even get back to the office.
On the budgeting side, trade show coordinators and managers can analyze data from ExpenseWire as a way to measure ROI, and determine next year's budget.
Even if employee-related trade show expenses fluctuate depending on location and time of year, the data can provide you with a strong look into how this year went, and a strong start for NEXT trade show season.
---
Talking about your company's expense policy might be one of the most important details that managers cover before they send employees to trade shows and conferences. Be sure your expense management software supports your policy, and gives employees the tools they need when they're on-the-go. Contact ExpenseWire to learn more.